Victorians Decoded: Art and Telegraphy catalogue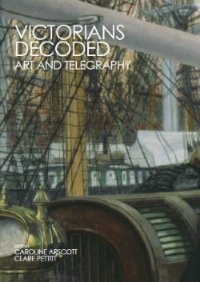 After a successful opening of the Victorians Decoded: Art and Telegraphy exhibition at the Guildhall Art Gallery, City of London, we are please to announce the publication of the official catalogue.
The catalogue features full entries for all images and objects on display at the Guildhall with longer (5000-6000 word) essays for selected images and ideas. The catalogue is edited by Caroline Arscott and Clare Pettitt with contributions from Anne Chapman, Natalie Hume, Mark Miodownik, Cassie Newland and Rai Stather.
The layout follows the main themes of the exhibition: signals, distance, transmission, coding and resistance, and can also be downloaded by themed section. Full index here
Cover, Foreword, Acknowledgments, Contents
Essays
Mark Miodownik 'A Brief Introduction to Electricity'.
Cassie Newland '1866: The Year Communication Changed Forever'.

Essays
Natalie Hume 'Between the Empirical and the Abstract: Grimshaw's The Thames by Moonlight with Southwark Bridge'.
Anne Chapman 'Profound Repetition: Hook's Deep Sea Fishing'.
Cassie Newland 'Chatterton's Compound'

Essays
Clare Pettitt 'Dispersed Consciousness: Evelyn De Morgan's Moonbeams Dipping Into the Sea'.
Caroline Arscott 'Electrifying the Literal: Topham's Rescued from the Plague'.
Caroline Arscott 'Grim Spectres: Logsdail's The Ninth of November, 1888'.
Caroline Arscott 'Engineering and Oratorios: Poynter's Israel in Egypt'.
Cassie Newland 'Telegraphic Copper'.

Essays
Anne Chapman 'Coded Encounters: Tissot's The Last Evening'.

Essays
Clare Pettitt 'Franklin's Messages: Edwin Landseer's Man Proposes, God Disposes'.
Natalie Hume 'Resistance and Boundaries: Peter Graham's Ribbed and Paled in by Rocks Unscalable and Roaring Waters''.
Cassie Newland 'Gutta-percha'.