Wheatstone Archive Workshop for MA Biography Module Students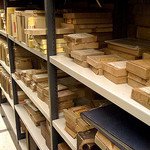 On the afternoon of 23rd February 2015 Scrambled Messages ran a workshop for students from King's English department who are taking the module Biographical Writing as part of their MA studies.  The workshop took place in King's archives where Wheatstone's archive has been revised as part of Scrambled Messages and we used this archive as an introduction to the pleasures and problems of working in the archive as a biographer. 
Anne introduced the project and Cassie talked about her work with the archive.  Edmund Gordon and Professor Max Saunders, who teach the module, also talked about their experiences of working with archives.  Lianne Smith an archivist at King's then provided a session on the practicalities of finding and using archives.  Finally the students worked with some of Wheatstone's materials thinking about how they might use them for biographical writing. 
If you would like to explore Wheatstone's archive you can access the catalogue here.
(image by Pete Ashton https://www.flickr.com/photos/peteashton/2289786706/ cc licence)