Victorians Decoded Launch Party!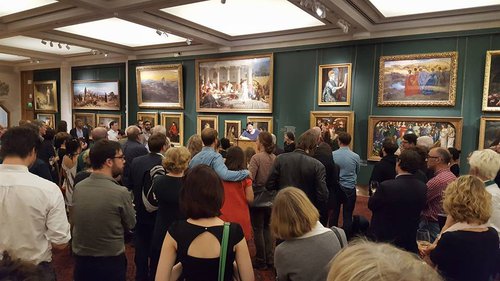 The great, the good and the just plain fascinating were gathered at the Guildhall Art Gallery, City of London on 19 September for the launch of the Victorians Decoded: Art and Telegraphy exhibition. Thank you to the Guildhall for your kind hospitality, lovely wine and excellent hosting. It was great to wander round the exhibition with colleagues and friends and hear the thoughts, perspectives and connections everyone brought to the exhibtion. The Scrambled Messages team had a great evening, we hope you did too.
Event press
Some great quotes from the many press, tweeters and bloggers who were in attendance:
'By far the most thought-provoking exhibition I've been to in London', 'it's well worth your time'
(Eleanor Franzén, 'Communication Nation: Victorians Decoded: Art and Telegraphy Guildhall Art Gallery', Litro, 20th September, 2016.)

'I can't think of a more worthy way to spend my time. This exhibition is free. FREE. The Guildhall's message about accessibility is NOT to be missed. Compare this free exhibition with any of the other major London galleries exhibitions on at present and ask what message those places are presenting about the arts. Ask yourself what those places think of your place as a visitor and as an educated commentator upon public collections. Then ask yourself about the purpose of this exhibition and you will see how it tries to emblematise democracy from start to finish, from the moment you walk in until the moment you grammatize. If you leave this exhibition with music in your ears and moonbeams in your eyes, then the messages sent have certainly been clearly transmitted.'
(Madeleine Emerald Thiele, 'Victorians Decoded', 18th September, 2016.)

'All in all, a great treat for art lovers, historians and technology enthusiasts alike. Should you happen to be a bit of all three, you will be able to return as often as you like, because the exhibition has the added advantage of being free!'
(Jacqueline Banerjee
http://www.victorianweb.org/painting/reviews/decoded.html

---
Pre-event press
Maev Kennedy, 'Making connections: how Victorian artists plugged into telegraphy', The Guardian, 13th September, 2016.
James Hoare, 'The Transatlantic cable was the Victorian answer to the moon landings', History Answers, 26th September, 2016.