Non-event in celebration of 150th Anniversary of the failure of the 1865 Atlantic telegraph cable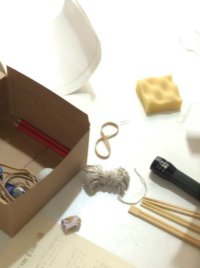 At 10.30 on 31 July 1865 the third attempt to lay a trans-Atlantic submarine telegraph cable ended in abject failure. After 1250 miles of cable had been paid out, the cable snapped and was lost over the side. To commemorate this epic failure to communicate Scrambled Messages held a Complete Non-event at the Institute of Making, UCL on Monday 13 July. At the event failure was embraced, explored and discussed through making, thinking and talking. Many thanks to all who attended and contributed!
For us the most successful thing about our celebration of failure was the enthusiasm with which our participants approached the day.  There was a real generosity of spirit, and this lead to some productive and thought-provoking discussions considering ideas about failure.  Several of our guests have continued that discussion for us contributing further blog posts in commemoration of the failure of the cable.
Carmel Raz is a Mellon Postdoctoral Research Fellow in the Society of Fellows and Lecturer in Music at Columbia University. Eleanor Shipton  is currently completing an MA in English 1850 - present in the English department at King's, and was the winner of our competition for a KCL English department MA student to attend the event. Jim Dixon is Research Coordinator and Built Heritage Consultant with MOLA (Museum Of London Archaeology).
Eleanor Shipton: Failing Together

We used Twitter to capture the day.  Of course it failed to capture much of the depth of the discussions, but if you click on my Storify below you will get a good overview of what we got up to.

https://storify.com/AnneChapman/150th-anniversary-of-the-failure-of-the-1865-atlan

We also captured the day on film. Snippet available here or below (one's bound to work). More to come! Many, many thanks to Teri Brewer and Cristina Mosconi.